A MUSIC PRODUCTION - POETS, WINE & SONG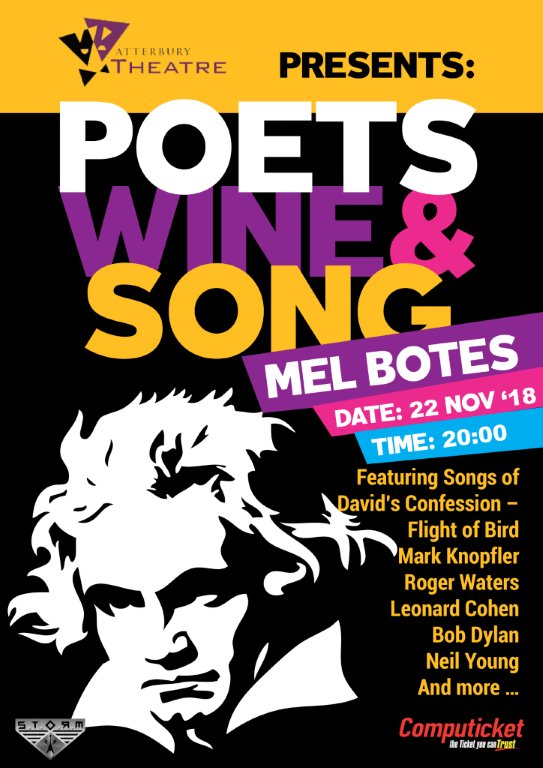 ATTERBURY THEATRE, 22 November - 20h00
Tickets available from COMPUTICKET !
A Music Evening with Mel Botes & Friends
Join legendary guitar master, songwriter and well known local musician Mel Botes at the fantastic Atterbury Theatre in November with his latest, very popular show "Poets, Wine and Song" It is not poetry.. He will perform old classic songs by some of his favorite "composers/poets" and will also introduce you to some of his own original music! Mel will take you through stories of how words became songs and why these songs made such impact on society. See the selection of music on the Poster. The sought after album DAVID'S CONFESSION - ABOUT TIME (Re-print),
Crazy Diamond - A Tribute to Pink Floyd, and Mel's award winning Afrikaans album "Oomblik van Waansin" will be for sale at the Atterbury Theatre on the 22nd of November! This will be his last performance in Gauteng for 2018. Thank you for your valued support the past year! #patronsoftheart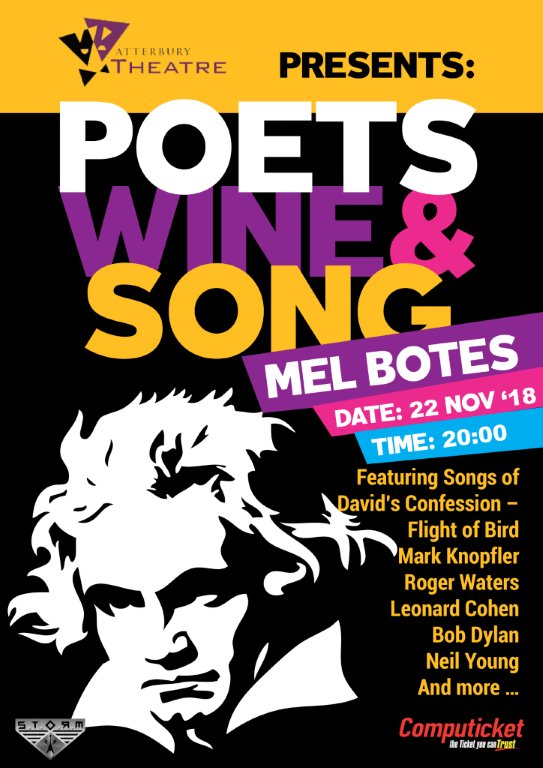 ATTERBURY THEATRE, 22 November - 20h00
Tickets available from COMPUTICKET !
A Music Evening with Mel Botes & Friends
Join legendary guitar master, songwriter and well known local musician Mel Botes at the fantastic Atterbury Theatre in November with his latest, very popular show "Poets, Wine and Song" It is not poetry.. He will perform old classic songs by some of his favorite "composers/poets" and will also introduce you to some of his own original music! Mel will take you through stories of how words became songs and why these songs made such impact on society. See the selection of music on the Poster. The sought after album DAVID'S CONFESSION - ABOUT TIME (Re-print),
Crazy Diamond - A Tribute to Pink Floyd, and Mel's award winning Afrikaans album "Oomblik van Waansin" will be for sale at the Atterbury Theatre on the 22nd of November! This will be his last performance in Gauteng for 2018. Thank you for your valued support the past year! #patronsoftheart